Take a delicious cappuccino or espresso from Bocca roastery in Amsterdam. Look out over the water while enjoying the "petit déjeuner". Enjoy a fresh orange juice, yogurt with red fruit and granola, a baguette with scrambled egg or a freshly baked butter croissant.
Our French chef can make a delicious croque monsieur or madame (with fried egg) for you. His traditional French onion soup with gruyere crouton is also highly recommended. In addition, you can choose from two delicious French-style filled baguettes or from two Vietnamese "Bahn Mi". Vietnam used to be a colony of France, which is why these delicious baguettes with pickled sour vegetables and sriracha mayonnaise also fit very well into our concept. And if you don't feel like taking a sandwich, we also offer a variety of "bites to share". And your unch is complete with a matching wine or beer.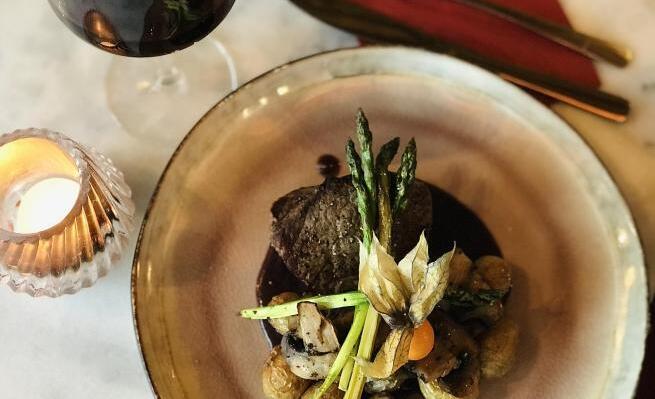 Monsieur Rouge has a small dinner menu. In addition to the main courses on the menu, Monsieur Rouge has a changing main course every two weeks. Our "suggestion du chef"! So if you come to dine at Monsieur Rouge more often, there is always a new dish to taste. Bavette, confit de canard and a vegetarian curry are our main dishes. For desert a moelleux (lava cake), dame blanche or a small cheese platter. And our bites to share are perfect to share with each other during drinks and as an appetizer.